Sales Company Nets 386% More Leads Exiting the Pandemic
Acquirent is an outsourced sales and lead generation company based out of Evanston, Illinois. Their mission is to recruit, train, and manage sales teams on behalf of clients ranging from innovative startups to Fortune 500 companies.
Using HubSpot's robust marketing tools, we reinvigorated Acquirent's client lead acquisition during a critical juncture in the economic downturn triggered by COVID-19 with a full marketing program. Since then, 120/80 has continued to support their efforts as the need for outsourced sales talent has spiked. Hubspot's Marketing Hub allowed 120/80 to swiftly rebuild their lead flow, while integrating their existing tech stack into an easily managed interface.
The Challenge
Our two main goals centered around generating new prospects, and ensuring those prospects are qualified. When CEO Joe Flanagan approached 120/80 for assistance with his company's marketing goals, he told us he had three objectives in mind: "leads, leads, and more leads."
Acquirent had outsourced their marketing to companies in the past with mixed results – many of these had overpromised on their services, or used measurements that were difficult to understand in terms of value.
120/80 recognized that Hubspot Marketing Hub would be the perfect software option for Acquirent, thanks to seamless integration tools and tools that helped deliver results in a way that could be easily communicated to the client.
Marketing Goals
Generate at least 150 leads per month
Increase opportunity to lead rate by 20%
Integrate tech stacks into a clean user interface.
Set up workflows and automation through LinkedIn and Emails
Utilize PPC to target new prospective leads
SEO Optimization delivered through weekly blogs and content syndication
The Solution
From the very beginning, Joe Flanagan made it clear that he was only interested in KPIs that were "good for business, not the scorecard." He wanted simple results that he could understand, so he could spend more time running his business and less time thinking about marketing strategy.
Hubspot Marketing Hub was the obvious solution to his marketing needs. It would allow us to perform the necessary changes for integrating their tech stacks, implementing marketing automation, and generating massive amounts of leads.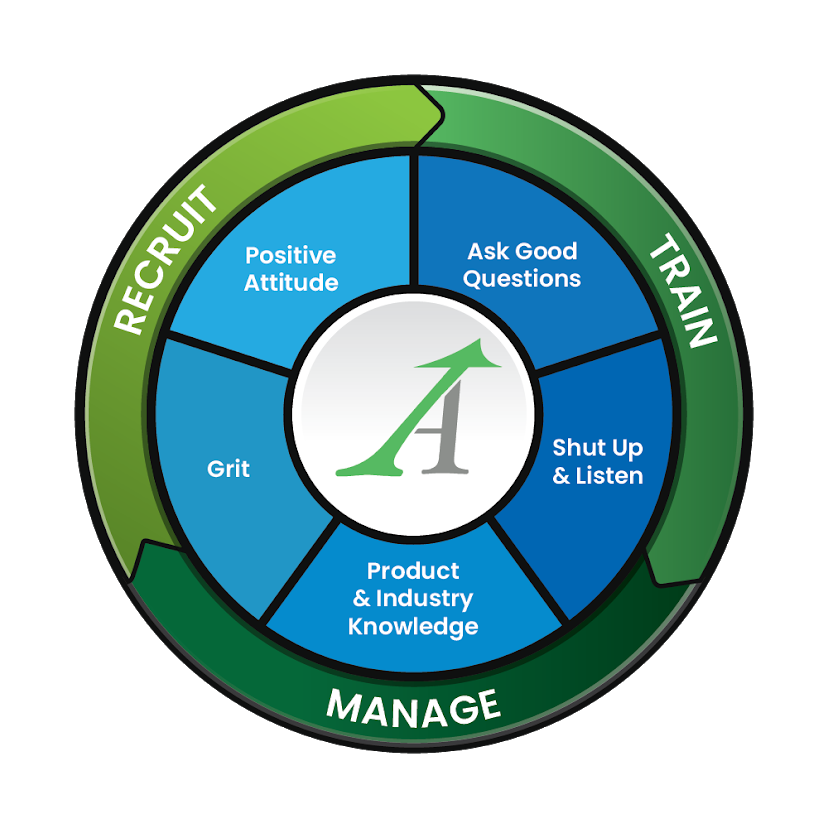 The Buyer's Journey
Before starting with our marketing efforts, 120/80 had to understand what brought clients to Acquirent in the first place. We saw an immediate connection between Acquirent's mission (recruit, train, and manage) and Hubspot's flywheel (attract, engage, and delight). Their company's success depends on scaling to client needs as their sales grow, and their business has relied on happy customers who become their best referrals. Mastering their flywheel depended on reducing friction in this cycle.
Acquirent prides itself on its open office environment, training methodology, and proven success in outsourced b2b sales talent. With the move to remote working, this became a critical pain point for companies that might best utilize Acquirent's services: "how can I hope to train my own sales team when we can't even be in the same room?"
Acquirent's robust roster of salespeople allows them to easily assign people to companies matching their personality type and sales ethic. While Acquirent initially struggled at the beginning of the pandemic, its services are uniquely suited to other companies in a remote working environment. We created lists around these ideal buyer personas, and used marketing automation to target them.
Integrations and Workflows
Acquirent has a complex tech stack that had not been integrated into a central database, and Hubspot's dashboard was able to integrate Salesforce, WordPress, Google Ads, Callrail, NeverBounce, and their social pages together into an easy-to-read format.
Salesforce is the primary CRM at Acquirent, and Hubspot's bidirectional workflows allowed information to be seamlessly updated between the platforms. These workflows also allowed us to clean up and organize their database, ensuring all future contacts would be assigned to their correct categories.
Marketing Automation
Email marketing automation was a strategy that we leveraged in multiple capacities: generating new contacts, and using prior customers to nurture relationships and build a network of referrals.
Hubspot allowed us to build out lists of ideal clients to send targeted messaging to, while engaging new audiences that hadn't been contacted in the past. 120/80's objective was not only to build out a new list of prospective leads, but to help nurture old ones – marketing automation was a method of achieving both. Targeting older clients who had favorable reviews of Acquirent let us eliminate friction in their referral pipeline.
The Outcome
Acquirent was stunned by the results that we were able to provide them with, thanks to Hubspot's lead generation tools and marketing automation features. Not only have we been able to expand their pipeline growth significantly from pre-pandemic levels – we have continued to push their outsourced sales initiatives and expand their team when clients have needed them the most.
Increased closed deals by 39%
Increased MQLs by 100%
Increased users by 46%
Increased new users by 47%
Increased sessions by 43.5%
Increased page views by 19%
How Hubspot Led to Our Success
Workflows: Triggered workflows along Acquirent's extensive tech stack, allowing us to set and schedule lead generation and nurturing campaigns
Paid Ads: Google Ads provided a key role in our strategy, targeted around a PPC keyword audit that delivered more focused ads
Blogs: Content optimized to generate better incoming marketing leads through SEO principles.
Lists: Segmented buyers as they engaged with Acquirent's digital marketing
Dashboard: Acquirent's marketing dashboard made it easy for them to understand marketing activities and sales performance
CTA: Chatbots and CTAs implemented throughout website to convert leads
Forms: All forms were built through Hubspot
Looking Forward
Acquirent grew quickly in 2021. Embracing the possibility of remote work, Acquirent has been able to expand their hiring beyond the borders of Evanston, and opportunities arose. In June, they acquired Vorsight, an outsourced sales organization based in the D.C. area.
120/80 wanted to ensure that their branding and image matched the pace of their business. It was imperative that we updated their website to be mobile-friendly as well as simple to navigate.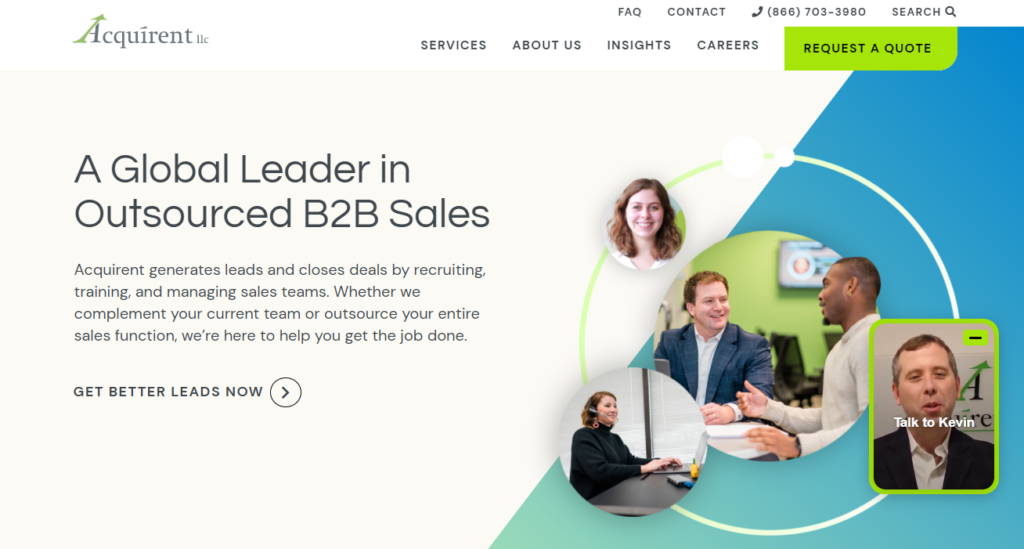 To create Acquirent's new website, we connected with Glantz Design, the same studio that produced our own website. Acquirent has always boasted high traffic through organic searches, so it was important that during the transition we were able to keep their search rankings intact while refreshing the text and look.
As part of our drive to create new ways of connecting with audiences, we experimented with a video chat bot on their main page. This has proven to be a strong conversion engine for their website, making lead generation even more streamlined than before.
The success of Acquirent's new website launch has led us to our current project of updating websites for their acquisitions. We are currently in process to launch LeadJen's new website, which we anticipate will be launched in Q2 of 2020.
Summary
Acquirent came to us to get back on track after being derailed by the COVID-19 pandemic. We delivered with optimal results – Hubspot let us deliver more qualified leads at a higher volume, with a range of tools that let us target multiple segments. Acquirent has quadrupled their lead generation through an automated system that consistently delivers on ROI.
How can 120/80 help your business? Contact us today to learn more about how we can help grow your business.