Where can you place ads?
We place ads on Google, Microsoft, Baidu, Quora, AdRoll, QuantCast, Infolinks, and LinkedIn.
Do you require a monthly spend limit?
We do not have a minimum ad spend. 120/80 works with businesses of all sizes and can adjust to changes in monthly cash flow. We also help companies setup and structure their accounts and provide employee training on how to manage them.
How are your management fees structured?
Like most digital marketing agencies, we use a tiered cost to manage an account based on ad spend. We also have an hourly option for those wanting to have more control over their own account.
What's included in your pay-per-click (PPC) management fees?
We include Google Analytics Conversion Setup, Google Tag Manager, Call Tracking, and Click Fraud Protection. We also include all landing pages and display ads.
Do you use bid management software?
We couldn't do what we do without the help of some cutting-edge AI tools. We can also script original code designed to help you reach your goals.
Do you use a call tracking solution?
Yes, we use CallRail and are familiar with other systems, including DialogTech and Marchex.
Do you handle conversion rate optimization (CRO)?
Yes, we use Unbounce, HubSpot, or SharpSpring and can handle advanced CRO techniques.
Do you include landing pages and display creative in your management fees?
Yes! They're always included.
Can you work with my CRM or marketing automation software?
We can work with HubSpot, SharpSpring, Active Campaign, Infusionsoft, and Salesforce.
What leeway do I have to terminate an agreement?
We require a 30-day termination notice.
Can we see a sample of your dashboard?
Absolutely! Each dashboard is unique since we customize them based on clients' needs. Here's one example: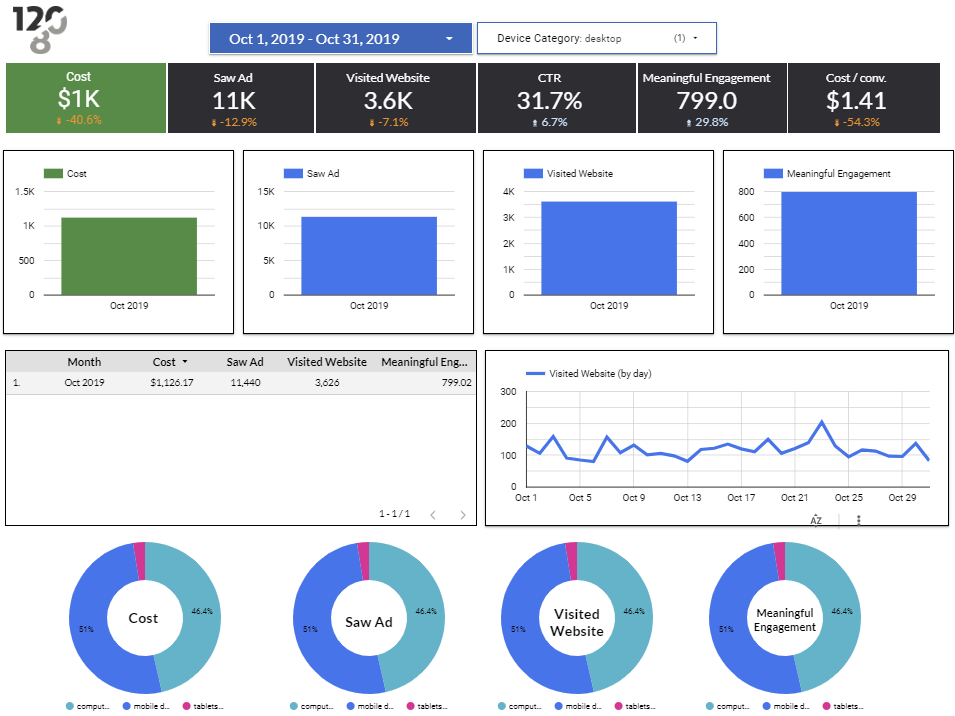 Do you handle cross channel engagement and retargeting?
Yes. We use AdRoll or manage audience targets in Google Analytics or your marketing automation system.
Are you able to target LinkedIn leads by the technologies a company uses to support their business?
Some technologies can be targeted on LinkedIn. Let's talk about what you need.